Zoals beloof een DIY voor controle van de gloeibougies n.a.v. een eerder topic
http://bimmerportal.nl/forum/viewtopic. ... 36&t=59946
Dit betreft een DIY voor het controleren van de gloeibougies zonder deze uit te bouwen Dit dient te gebeuren met een KOUDE motor.
Indien de gloeibougies uitgebouwd dienen te worden zorg dan juist voor een WARME motor. Dit zal het uitbouwen makkelijker maken en de kans op breken van de gloeibougies tijdens losdraaien aanzienlijk verkleinen. Houd ook voor het losdraaien rekening met de maximale kracht die gezet mag worden en gebruik dus ook een momentsleutel!
Aanvulende info:
* Vervang gloeibougies altijd allemaal, ook al is er maar één defect en (laat) reset)ten) de adaptiewaardes.
* Huidige generatie gloeibougies werken niet of enkel kortstondig op 12V sluit dus NOOIT rechtstreeks een accu(lader) aan.
* Het keramische deel van de gloeibougie is zeer breekbaar en gevoelig voor stoten en vallen.
Voorbereidingen:
- Koppel de accu los, wel doen! Anders maak je sluiting aan de dynamo.
- Motorafdekplaat verwijderen
- Luchtfilter huis: koppel in- en uitlaat van het luchfilter los en verwijder het huis met filter door naar voren te trekken.
- Verwijder beide motor isolatie panelen boven op de motor.
- Verwijder isolatie paneel aan de voorzijde (thv multiriem)
- Maak alle kabelhouders die vastzitten aan het inlaatspruitstuk los.
- Koppel MAPsensor los van het inlaatspruitstuk en verwijder deze uit het spruitstuk (meteen even voorzichtig schoonmaken aan binnenkant)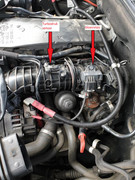 - Koppel de 2 draden los die over het spruitstuk naar de dynamo lopen.
- Maak de stekkers los van de swirlflaps actuator en de temperatuurmeting van de EGR terugvoer
- Koppel de verbindingsbuis los tussen onderstaande onderdelen:
Gasklephuis (3x inwendig torx E8) (maak indien nodig gasklephuis meteen schoon)
EGR terugvoer (2x M6)
Inlaatspruitstuk (3x Torx 30)
Verwijder de verbindingsbuis daarna voorzichtig let op, naar voren trekken in de richting van de pijl ivm paspennetjes.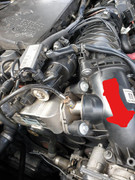 - Dek nu de EGR toevoer en het gasklephuis af zodat er niks in kan vallen.
- Verwijder het inlaatsspruitstuk nadat je (5x M6 hebt losgedraaid)
- Tape direct de inlaatkanalen op de cilinderkop af!
- Verwijder de stekkers van de gloeibougies voor de weerstand test te kunnen uitvoeren.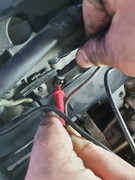 Zorg dat de min op de moer van de gloeibougie zit en geen contact maakt met de cilinderkop, anders dit zal natuurlijk geen relevante weerstand geven. de plus moet natuurlijk worden aangesloten op het aansluitpunt van de plusdraad.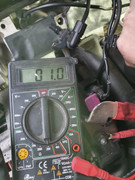 controleer of de mulitmeter goed ingesteld staat indien nodig. Een KOUDE gloeibougie (en dus ook een koude motor) dient een weerstand te hebben van circa 1 ohm.
Een te hoge of een lage weerstand duidt op een slecht werkende gloeibougie, weerstand oneindig betekent uiteraard defect.
Nu dient het gloeirelais gecontroleerd te worden voor de aansturing van de gloeibougies. Controleer met een massa op het blok en de plus op de stekker of er spanning op de draden komt mbv het schema in de link
https://www.newtis.info/tisv2/a/en/f11- ... -6/XJdq8t6
(met dank aan ehombie).
De mijne bleek defect en een nieuwe is besteld.
Terug bouwen in de omgekeerde volgorde! Succes