Wat een prachtige wagen zeg.... Mocht 'ie ooit weggaan houd ik mijzelf graag aanbevolen..

---
Ziet er goed uit deze Z4, en behandeling van glascoat ziet er ook goed uit.
---
Bedankt! Ben er ook nog steeds erg blij mee, daarom heb ik m inmiddels alweer ruim 5.5 jaar. Op naar de 6
---
Berichten: 85
Lid geworden op: 05 dec 2015, 00:09
Wat een mooie auto Twan!
Ik twijfel nog of ik ook een Z4 moet kopen dan wel een M135i / M140i...
---
Hoe belangrijk is open rijden voor je? Dan weet je snel genoeg of je de 1 of z4 wil
Inmiddels heb ik een set originele MSport remmen eronder laten zetten. Maatje groter, mooiere klauwen maar wel in de originele (saaie) grijze kleur zodat het niet te veel opvalt.
Beurtje apk en navi update, en alles is weer tiptop. Kmstand 47dkm
---
Wat een pracht auto heb je. Is het ook zo dat de auto makkelijker schoon te krijgen is met die coating? Ik hoorde van iemand enkel afspoelen met water en laten opdrogen.
eat,, sleep,, drive BMW
---
Zou wel makkelijker moeten zijn met wassen. Vliegen poep enz blijft gewoon rommel en het plakt nog steeds. Maarja... hoe realistisch is het om dat te verwachten? Geen idee.
---
Na de zomervakantie nog één toerrit gedaan en verder niet meer gereden. Wel helemaal schoongemaakt en zijn huisje afgewerkt:
Inmiddels heb ik ook een set originele BMW MSport remmen (oa geleverd op f3x) laten monteren bij de garage waar ik de Z4 jaren geleden kocht. De remmen zijn 1op1 over te zetten maar moeten wel gecodeerd worden. 
Naast het gebruikelijke 2 jaarlijkse beurtje etc dus mooie nieuwe stoppers in een maatje groter dan wat je normaal op een Z4 e89 vindt.
Remt precies zoals ik hoopte. Niet te bijterig maar vertraagt beter en stabieler. De oude 325mm remmen heb ik over voor liefhebbers... past op veel BMWs. Ideale upgrade voor oa lichtgemotoriseerde E9x of F3x modellen die een krachtkuurtje hebben gehad.
---
Met dank aan de forumbeheerder voor de fijne nieuwe optie voor het plaatsen van foto's. Foto van de oude remmen: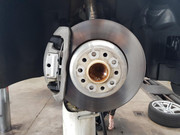 Nieuwe remmen: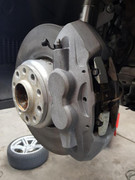 ---
---
BimmerPortal Team
Berichten: 9984
Lid geworden op: 15 dec 2013, 12:36
Locatie: Zuid-Holland
Contacteer:
Vet die remmen, in de toekomst eens kijken wat er voor mijn 335i mogelijk is, voor de 525i was het vrij simpel, klauwen van 535D, de 3 heb ik me nog niet in verdiept.
---